Traction Therapy (Spinal Decompression)
in Anchorage, AK
If you are suffering from lower back pain, herniated discs, or sciatica, then traction therapy and spinal decompression in Anchorage can benefit you. At True Life Chiropractic we use these treatment modalities to reduce tension, increase nutrient flow, and provide natural pain relief. We have a Triton DTS table that we use to perform traction therapy in our professional and welcoming chiropractic clinic. Learn how this treatment functions and decide if spinal decompression may be right for you.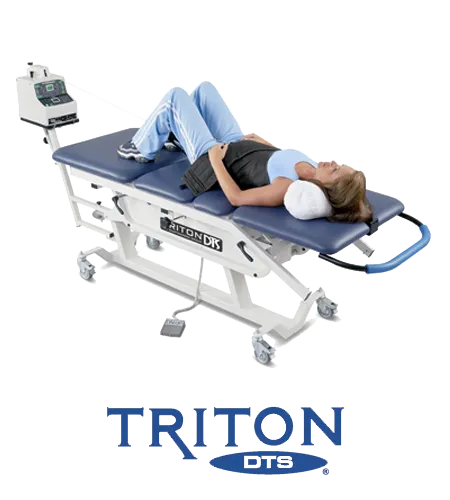 How Traction Therapy Works
Traction therapy is a nonsurgical approach to back treatments and pain relief. In using a traction table, such as the Triton DTS table, we can slowly and carefully open up your spinal column. By stretching your spine using this chiropractic technique we can increase the amount of nutrients flowing through your musculoskeletal system. This treatment also lets our chiropractor reposition any slipped discs that may be pressing against muscles, nerves, or other discs and causing you pain. Inflammation caused by herniated discs or bulging discs can be relieved, allowing for the swelling of the discs to subside. This way the discs can return to the normal positioning without the use of back surgery.
Benefits of Spinal Decompression Therapy
Trying to resolve back pain or neck pain without the use of drugs? This is entirely feasible using spinal decompression therapy. We believe in the all-natural, holistic approach to health care, and spinal decompression follows that path. In getting traction therapy or decompression you also help your body heal itself from sports injury, auto accident injury, or work related injury. You can avoid having surgery to correct these injuries, which can save you time and money. Our chiropractor ensures your utmost health and wellness without depending on conventional medicine and hospital rooms.
Conditions Treated With Triton DTS Table
When you have back pain, neck pain, arm pain, or leg pain, your condition is likely associated with compressed or inflamed spinal discs. The use of the Triton DTS table helps to alleviate this pressure and allow your spine to heal naturally. If you have nerve pain, such as sciatic nerve pain or carpal tunnel syndrome, this is associated with an out of aligned musculoskeletal system. By using traction therapy and this specialized table, we can realign your system and improve your overall balance. This takes pressure off of the nerves causing your nerve pain.
Call Our Chiropractic Clinic in Anchorage, AK
Whether you are interested in spinal decompression or traction therapy using the Triton DTS table, we want to assist you at our chiropractic clinic in Anchorage. Here at True Life Chiropractic our chiropractor Dr. Michael Michaud is a respected adopted member of the Tlingit tribe in Alaska. He offers comprehensive chiropractic treatments ranging from adjustments to decompression therapy. Contact our office at 907-646-2225 to schedule an appointment for traction therapy in Anchorage. We are currently offering a free detailed chiropractic consultation for all new patients.