Chiropractic Check-Ups in Anchorage, AK
When you deal with recurring musculoskeletal pain, it can have a serious impact on your quality of life overall. Persistent pain can prevent you from doing some kinds of activities that you would normally enjoy, such as recreational activities. It can also make it difficult for you to perform day-to-day tasks with ease, especially if you have stiffness or trouble moving certain ways. Chiropractic care offers a way for you to experience effective pain relief, so you can take up your usual activities again.
When you come in for a chiropractic checkup, our chiropractor, Dr. M. Michael Michaud, will conduct an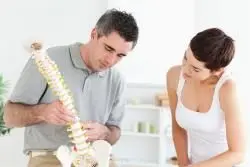 evaluation of your condition. This helps determine where your pain is originating from, how severe it is and which types of treatment methods will offer the most relief. You can expect to answer questions about your medical history, including any injuries you have suffered or any underlying health conditions you have that could be contributing to your pain. Dr. Michaud will also check your posture, observe how you move and conduct other tests to better understand the biomechanics of your condition. These tests help our chiropractor assess how much difficulty you have moving and which movements cause the most pain. Our checkups might also involve performing diagnostic imaging tests in order to get a more accurate assessment of your condition. These might include X-rays or MRIs, which offer a more in-depth look at the affected area. With these imaging tests, we can pinpoint the exact cause of your discomfort.
Once Dr. Michaud is able to assess your condition and determine the cause of pain, he will create a customized chiropractic treatment plan for you. This plan might include spinal adjustments to help realign your spine and reduce pain. These adjustments provide a safe and reliable form of pain relief for those with musculoskeletal problems. When your spine is aligned properly, nutrients can enter the affected area and promote the healing process. Dr. Michaud might also recommend other forms of treatment that can enhance the results of adjustments. These include therapeutic exercises that can help correct irregularities that contribute to chronic pain, massage therapy that improves blood circulation and your range of motion and nutritional counseling for a healthy spine and muscles. In addition, we can also provide you with guidance on lifestyle changes that can reduce your risk of experiencing recurring pain, such as exercises to do, activities to avoid and foods to avoid.
Contact Our Chiropractor in Anchorage, AK Today!
If you have persistent pain that does not respond to other types of treatment methods or if you wish to avoid the risks of surgery or pain medications, contact us for an appointment. Our chiropractor in Anchorage AK will provide you with a comprehensive evaluation of your condition in order to determine the most effective form of chiropractic treatment.